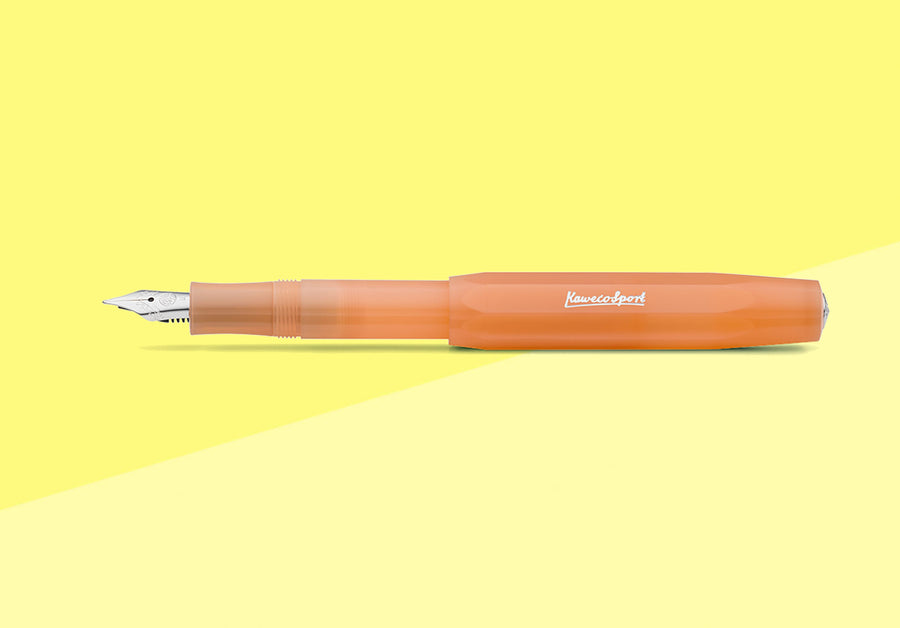 The timeless SPORT fountain pen from Kaweco, made in Germany.
This pocket fountain pen measures only 10.5 cm when closed, making it a practical everyday companion. With the cap on, it grows to a standard size of 13 cm for a comfortable writing experience. Its compact size makes it a great pen for on the go.

You can personalise your pen by choosing the nib that will fit your personal handwriting the best. There are five different nibs available: extra fine (EF), fine (F), medium (M), broad (B) and extra broad (BB). While the extra fine nib is suitable for small and delicate handwriting, the extra broad nib is often used for large, dramatic signatures. If you would like a specific nib size, please email us at hello@sous-bois.at after placing your order. We recommend nib size M if you're not sure which nib to choose or if this is your first fountain pen.

Colour: Soft Mandarine (orange)

Series: Frosted Sport
Material: Plastic
Size: 10.5cm, (open: 13cm)
Nibs supplied unless otherwise stated: Medium (M)
Fountain pen and nibs made in Germany.